Self-Determination: Tribal Leaders Respond to Veto of Bi-Partisan Bill SupportingWabanaki Inclusion in Federal Laws — Legislature will vote to override veto this week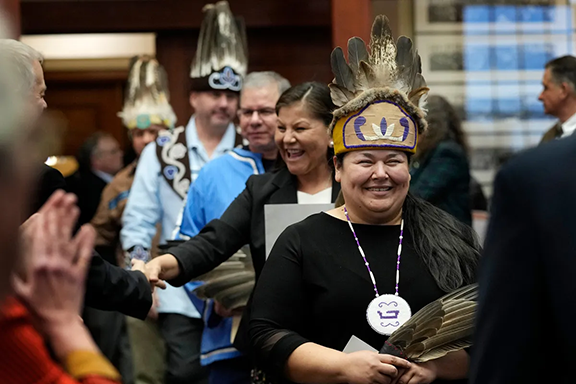 UPDATE and PRESS CONFERENCE TRANSCRIPT: Friday, JUNE 30, 2023
On Friday, June 30th, 2023, Governor Janet Mills vetoed LD 2004 "An Act to Restore Access to Federal Laws Beneficial to the Wabanaki Nations," a bill that passed with bi-partisan supermajority support in both the Maine House (100-47) and Senate (26-8) last month. Te Governor's Office is seeking to peel back the votes required for a two-thirds majority override, a vote slated for Thursday, July 6th. Supporters from an irrefutable movement for Tribal sovereignty plan to gather at the State House at 9 am that day.
LD 2004 partially addresses just one of the twenty-two bi-partisan recommendations from the 2019 Task Force on Changes to the Maine Indian Claims Settlement Implementing Act. The Task Force was created when Maine legislative leadership invited Tribal leadership to work to address the 1980 law, its ambiguous, litigious, and controversial application by the State of Maine, and the negative impacts and conditions it has created for Wabanaki communities. The Task Force sent their recommendations to the Legislative Judiciary Committee which in the past years has been working to create legislation codifying these recommendations. After a series of delays, the bill's current form will be taken up again next session, as LD 2007 "An Act to Advance Self-Determination for Wabanaki Nations."

LD 2004 ("An Act to Restore Access to Federal Laws Beneficial to the Wabanaki Nations") addresses only the recommendation pertaining to the inclusion of Wabanaki Nations in federal Indian laws. Unlike the other 570 federally recognized Tribes across the United States, the Wabanaki Tribes in Maine (Penobscot, Passamaquoddy, Mi'kmaq, and Maliseet) are excluded from laws passed in Congress pertaining to Tribes, unless specifically mentioned. Past laws include the Violence Against Women Act (VAWA), the Indian Health Care Improvement Act, and the Stafford Act, which provides Tribes the capacity to directly seek federal disaster relief and emergency assistance. Exclusion from US laws has resulted in a loss of federal funding opportunities and Tribal government development.
Attempts last year to reverse this through federal legislation sponsored by Representative Jared Golden and co-sponsored by Representative Chellie Pingree (HR 6707: Advancing Equality for Wabanaki Nations Act) passed the House but were opposed in the Senate. The Mills administration testified against the measure.
Below is the transcript from the press conference held by Tribal leaders, organized by the Wabanaki Alliance. The Wabanaki Alliance includes Tribal leadership and over 77 organizations across the state working to support Tribal sovereignty.