Tribal Leaders are firm. They are not backing down from LD 1626, "An Act Implementing the Recommendations of the Task Force on Changes to the Maine Indian Claims Settlement Implementing Act", regardless of Governor Mills' threat to veto LD 585, a gaming and tax bill that she proposed and supported, if 1626 comes to her desk.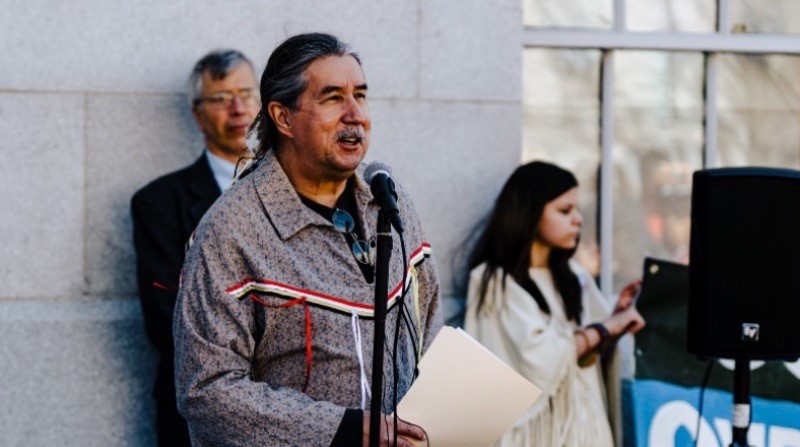 The Bangor Daily News reports, "Passamaquoddy Vice Chief Ernie Neptune of Pleasant Point (Sipayik) said Wednesday that chiefs were informed by Mills' top lawyer, Jerry Reid, that the sports betting bill would be vetoed if the bigger sovereignty bill moved forward." Mills has signaled she would veto LD 1626, and without enough votes for an override in the legislature, it would be her pen that would kill the bill.

  At a rally and press conference held at the Statehouse Wednesday, Tribal citizens, leaders and legislators hailed the passage of LD 906, the Sipayik clean drinking water bill which was signed into law Thursday, and the near approval of LD 1626 and 585, both waiting to be passed through Appropriations for final Senate approval. The legislature will resume for an extended session on Monday. 
Speakers at Wednesday's rally lauded a shift in Tribal-State relations at the legislative level, but the actions and lobbying by the Executive have been out of step with that shift, and her own party in the legislative branch.  

  Those at the rally were clear they did not consider the Tribal sovereignty bill to be sacrificial. Their message: Pass and sign the bills.
Senate President Troy Jackson, one of the legislators who approached the Wabanaki Tribes with the idea to create a Task Force to recommend changes to the constraints of the Settlement Act, issued a statement to be read at the rally:
"The Tribal sovereignty bills have been years if not decades in the making. It's the product of our Indigenous neighbors' tireless advocacy which led to the 2019 legislative Task Force on Tribal-State relations. Together, Tribal Nations, State lawmakers and stakeholders worked in good faith to review the Maine Indian Claims Settlement Act of 1980 and reach a consensus on a series of recommendations. From the start, this short session has been about finishing what we started."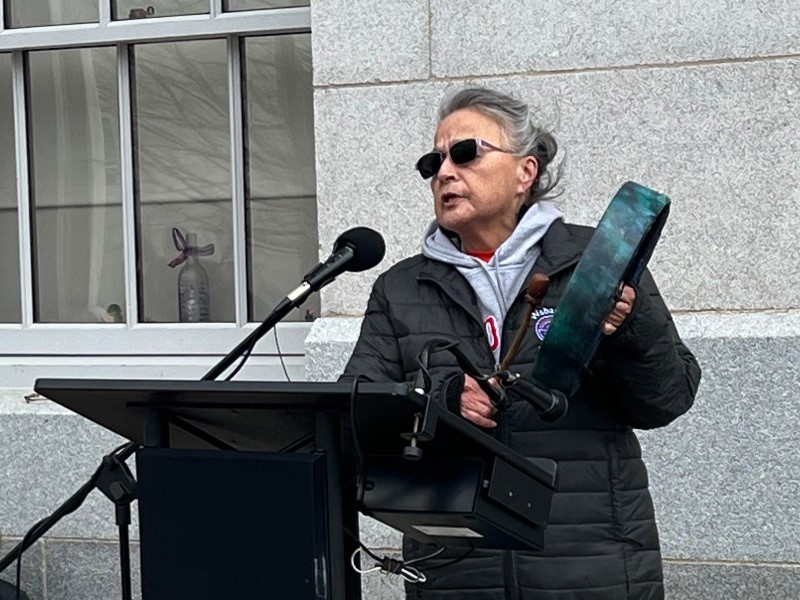 "The action we need is for them to be signed!" said Rep Thom Harnett from the rally podium. "We are hearing that these bills haven't been vetted enough. That is ridiculous. We've had hearings. We've had work sessions. We have heard from thousands of people…The time for words is over. It's the action that we need right now."

"It's up to her,"  Passamaquoddy Vice Chief Darrell Newell of Motahkomikuk said of Governor Mills at the rally, "She has an opportunity to change her mind and be a good, decent person and truly live up to her words that Tribal-Maine relations be repairable. It's up to her now. We've done our work."
Earlier this week Passamaquoddy Chief Maggie Dana of Sipayik, spoke to Sunlight Media Collective in Augusta to dispel rumors going around the Statehouse. "One thing going around right now is that the Tribes do not support LD 1626, or we want it off the table. That is simply not true," said Chief Dana. "It is about our sovereignty. That is not something we are going to give up."

  Who will potentially take the blame if this historic grassroots effort to respect Tribal sovereignty is killed remains to be seen. It could be left on the table by the Senate, or vetoed by the Governor, all with possible echoes in an election season. But one thing is sure, Tribal leaders say, it will not be them.
Despite earlier signals she would not, Governor Mills did sign LD 906 "An Act To Provide Passamaquoddy Tribal Members Access to Clean Drinking Water" into law Thursday, April 21st. Originally Mills opposed an element of the bill that will now recognize that the Passamaquoddy Tribe, in conjunction with the federal EPA, has the authority to regulate its drinking water under the Safe Drinking Water Act, as do other federally recognized Tribes not constrained by the Settlement Act.
A key element of LD 1626 "An Act Implementing the Recommendations of the Task Force on Changes to the Maine Indian Claims Settlement Implementing Act" and the federally proposed H.R. 6707 "Advancing Equality for Wabanaki Nations Act", sponsored by Rep Jared Golden, is to reverse the exclusion of Wabanaki Tribes from federal legislation that applies to all the other 573 federally recognized Tribes, unless the Wabanaki Tribes are explicitly named.