April 11th 2022:
Today, Tribal citizens and others called for the passage of LD 906 "An Act to Provide Passamaquoddy Tribal Members Access to Clean Water" at a Rally at the Statehouse in Augusta. A vote is expected in the House tomorrow. Governor Mills has said, if passed, she will veto the bill because of a provision that would recognize that the Passamaquoddy Tribe, in conjunction with the federal EPA, has the authority to regulate its drinking water under the Safe Drinking Water Act, as do other federally recognized Tribes. This recognition has been denied under the auspices of the Maine Indian Claims Settlement Act.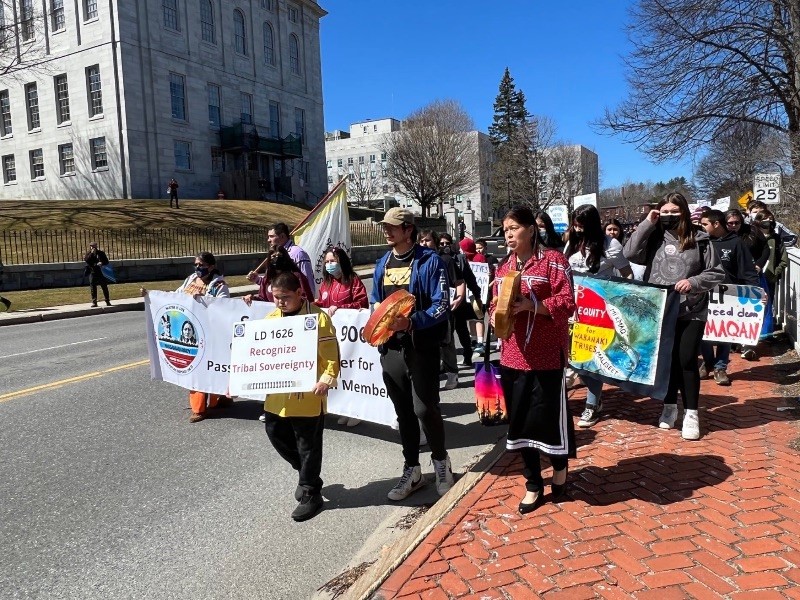 The landmark LD 1626 "An Act Implementing the Recommendations of the Task Force on Changes to the Maine Indian Claims Settlement Implementing Act" is also expected to be considered by the House this week.

More coverage of the Rally and bills to follow.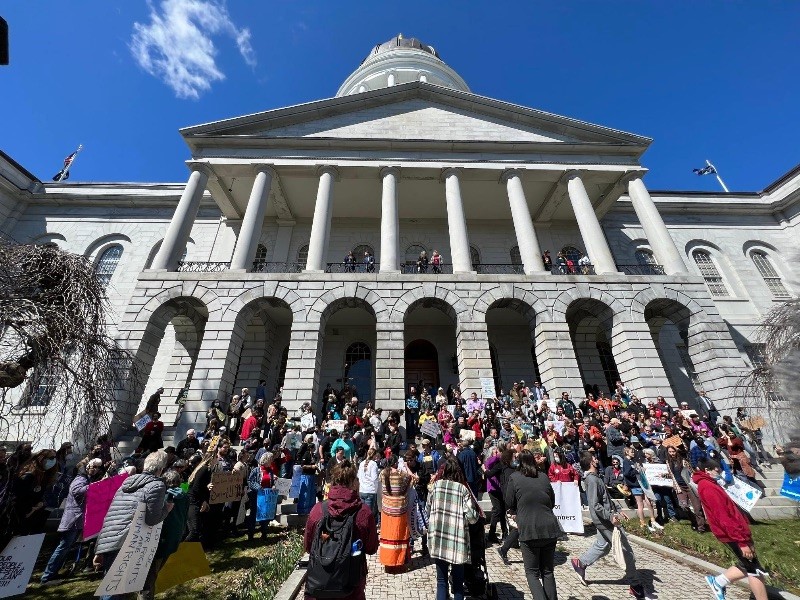 Here is the transcript of Passamaquoddy Chief Maggie Dana speaking at the Sipayik Clean Drinking Water Rally, in Augusta, April 11th 2022:

"LD 906 is about clean, safe drinking water. The Passamaquoddy people do not, I repeat, do not have access to safe or clean drinking water. In a society that often advocates and fights for their rights- the right to a living wage, the right to education, the right to healthcare, and the right to clean water…We the Passamaquoddy people are not fighting about our rights. We are talking about our responsibilities. This is not about the rights to this land, but our responsibilities to it. Our responsibilities to care for this land to mitigate harm, and live in reciprocity with the land. Our people have lived generations with unsafe dirty drinking water. We have been harmed by our water. Our culture is clear: Water is Life. And for the Passamaquoddy people at Sipayik, it is poison."

"As Passamaquoddy people, we want to take responsibility by regulating our own drinking water on our own lands. We want to access federal and other funding to do so. To work creatively and collaboratively to improve the health of the water, for the wellness of all people in this region both indigenous and non-indigenous. The unfortunate situation we are facing is a perfect example of how the Maine Indian Land Claims Settlement Act has created a situation where the Passamaquoddy people do not have access to clean drinking water. This is a clear violation of our human and civil rights."

"I saw in a recent article, where Governor Janet Mills has expressed strong reservations about the reforms that would substantially weaken the State's jurisdiction over the Tribes in Maine. The quality of our drinking water is poor. At times, just the sight and smell of it is offensive. Then factor in the chlorine they dump into the water to clean the animal feces, and you have a recipe for a public health disaster. This is the product of how the State of Maine regulates drinking water served to the Passamaquoddy people. This is why we don't feel safe under Maine's jurisdiction."

"The State of Maine's motto, "Dirigo,", in Latin means, "I lead". My reply to the State of Maine government, compared to other states, Maine is last with respect to Tribal State relations, to provide clean drinking water, and with respect to equitable treatment with the First Peoples of this land. This about basic human rights. This is about justice. This is about equity. And this is about the future and the lives of the Wabanaki People."

"The Passamaquoddy equivalent to "Dirigo. I lead" is Tribal sovereignty and self-determination. By leading our own Tribe, without restrictions, and having our own jurisdiction. Our culture provides us the road map for the future. We know how to live in reciprocity with the land. We are simply asking for the opportunity to do so. Water Is Life. Our future depends on it. The Passamaquoddy People deserve it. Please join us in supporting this critical piece of legislation. Please support LD 906."